Communities In Schools of Central Texas Leadership
Sharon Vigil
CEO
Sharon trusts that communities have the answers and is an unapologetic believer in young people, the brilliance they carry, and the adults that uplift them. Sharon joined Communities In Schools of Central Texas as its first Chief Operations Officer, and within three years was promoted to the Chief Operations and Equity Officer for her Diversity, Equity and Inclusion work within the agency. In this role Sharon led all aspects of programmatic strategy, the agency's systems and infrastructure, and embedded DEI into the fabric of the agency. Sharon was named the new CEO of the organization in September, 2022.
Prior to joining CIS, she spent 10 years working for community and youth serving agencies focused on reducing health disparities and access to services based on race, ethnicity, geography and economic status by addressing the social and physical determinants of health and internal systems for access. The through line in her career is her commitment to building equity through community-based organizations. Beyond her work history, she has a master's degree in Executive Leadership and a master's degree in Education with a focus on multicultural bicultural education. As a lifelong learner, she continues to further her education through professional development programs at Georgetown University, Cornell University, Leadership Austin Essential, and the Hispanic Austin Leadership Program.
Debra Joiner
Chief Operations Officer
Debra (she/her) has over twenty years of experience leading teams and projects. Before joining Communities In Schools of Central Texas in 2014, she held a variety of roles at the Austin American-Statesman in the advertising, circulation, and audience departments. She developed original youth programs and content including the award-winning "Hit a Home Run for Reading" summer reading program, introduced the eEdition product for Newspapers in Education, served on the NAA Foundation Digital Newspapers in Education Task Force, and oversaw signature community programs focused on literacy, children, and health and wellness, including Statesman Season for Caring and Swim Safe. In her role as Sr. Director of Communications at CIS, she introduced the Strong Voices public speaking training program, and was a member of the CIS Change Team which was instrumental in the creation of a plan to operationalize the organization's commitment to diversity, equity and inclusion. She has been a volunteer CIS Reading Buddy since 2014, and is a member of Impact Austin and Women Communicators of Austin.
Will Penny
Chief Financial Officer
Will Penny is a CPA in Texas. He has over 30 years of experience in banking, investments, and accounting. Will has dedicated himself to the accounting profession since 2012. Before that, he worked for Wachovia bank where, as a branch manager, he was awarded the President's award for turning around an ailing branch. In 2004, he was selected by senior management to move to TX from NY to be part of an expansion team. His last role in the bank was as a commercial banker.
Throughout his career, Will has applied his broad background and experience serving non-profit boards and management of organizations focused on childhood education. As the CFO for a premier non-profit, Will successfully pursued and closed a pivotal New Market Tax Credit financing deal, guiding the organization through a rigorous application process that required extensive coordination with banks, attorneys, and government agencies.
Will has two children and has been married for over 25 years. He enjoys blues guitar and high-performance driving events
Carmine Salvucci
Chief Development Officer
Carmine joined Communities In Schools as Chief Development Officer in 2016. He earned a bachelor's degree from The College of the Holy Cross in Massachusetts and an MBA from The Kellogg School at Northwestern. Prior to CIS, Carmine served as Chief Development Officer and Executive Director of the SAFE Foundation, and CDO of Children's Bureau, a child abuse prevention and foster/adoption agency in Los Angeles. While he has spent the past 15 years working with child-focused social service agencies, Carmine spent the first 10 years of his professional career at Stanford and Northwestern universities, where he became recognized for his work in real estate planning, principal and major gifts, capital campaigns, and strategic planning. Carmine is a graduate of the 2013 Leadership Austin Essential class. His favorite work days are spent with individuals and families, discussing how they want to make the world a better place through philanthropy.  His favorite days at home are spent cooking, gardening, running or entertaining friends, especially when it's with his husband, Steve and son, Baltazar.
Jerry Roberts
Chief Program Officer
Jerry Roberts has built his career on one simple principle: never run away from a new challenge. He recently served as Executive Director of the Milwaukee Area Workforce Funding Alliance; catalyzing policy and systems change by leveraging philanthropic investments, connecting federal and local policies, systems, and leaders, to open access to economic opportunities for low-income working families; laying the groundwork to drive social change. Prior, Jerry was Senior Director of Strategy and Innovation for Midwest Urban Strategies, a consortium of 13 U.S. Department of Labor Workforce Development Boards working to marry traditional workforce development practices with economic development. Previously, Roberts worked for Bader Philanthropies where he guided the Foundation's annual $2 Million investments in workforce grants and its growing $20 million Program Related Investment portfolio. Jerry's contributions to the nonprofit sector include helping organizations move from their entrepreneurial beginnings to the next stage in organizational development and supporting conversations among local and regional leaders with an eye toward collaboration and systemic solutions. He is a frequent public speaker on various issues relating to education and workforce equity, social enterprise, poverty, racism, and economic opportunity. Roberts holds a master's degree in the cultural foundations of education from the University of Wisconsin-Milwaukee, as well as bachelor's degrees from Grace Christian College and UW-Milwaukee.
Dian Shircliff
Chief Administrative Officer
Dian has more than 22 years of experience in human resources, employee relations, employee benefits, recruiting, and onboarding. Before starting with Communities In Schools of Central Texas in 1996, Dian served on the membership support teams for the Austin Chamber of Commerce and the Texas Pharmacy Association. She has a Bachelor of Science in Communications from the University of Texas at Austin, and a Senior Professional in Human Resources certification. She is an active member of One Voice Central Texas, a coalition of the leadership of over one hundred nonprofit health and human service organizations working to make sure that everyone can contribute to our community and thrive. Dian enjoys taking epic road trips, trying out new recipes, and spending time with her family.
Emily Demerath
Sr. Program Director of Campus Based Services
Emily is a Licensed Masters Social Worker (LMSW) with a Bachelors of Science in Social Work from St. Mary's College and a Masters of Science in Social work from Washington University in St. Louis. Before joining Communities In Schools in 2007, Emily was the Director of a small non-profit in St. Louis. During her tenure at Communities In Schools, Emily has held the positions of Program Manager and Program Director before taking on the role of Senior Program Director of Campus Based Services. Emily has previously served on various committees within Communities In Schools, recently completed the CIS Leadership Academy, and currently serves on the Greater Austin Reading Coalition. Emily enjoys cooking, baking, trying new foods and traveling with her husband and 2 children.
John Duck
Sr. Director of Development
John has 15 years of fundraising experience and a total of 17 years working in social service organizations. He built his development career on a foundation of social work education and direct client service and he also has extensive experience in program evaluation and strategic planning. John joined the development team at Communities In Schools of Central Texas in 2011 as Director of Community Partnerships and now serves as Sr. Director of Development. John maintains a portfolio of major donors and prospects and leads corporate sponsorship, special event, donor stewardship, and payroll giving fundraising efforts for the agency. Prior to joining CIS, John was hired as the first Director of Development at Hope Alliance in Round Rock, TX, a domestic violence and sexual assault crisis center and shelter. John began his non-profit career at Helping Hand Home for Children in Austin, supporting children recovering from abuse and neglect in their residential treatment and foster/adoption programs. Prior to entering the non-profit sector, John had a brief but successful sales career. John is passionate about connecting altruistic community members with the causes they care about. John earned a Bachelor of Social Work degree from Temple University in Philadelphia, Pennsylvania.
Dorothy Z. Garza, LCSW-S
Sr. Director of Mental Health Services
Dorothy Z. Garza has over 25 years of experience in direct and macro practice at the local and state level. She has provided individual and group counseling and established working relationships to implement programs serving children, adolescents and adults in the non-profit, school, state agency and university settings. Dorothy began her social work career with Communities In Schools of Central Texas (CISCT) in 1991 as a graduate intern. She was later a CISCT Program Manager at Zavala Elementary. Dorothy is very excited to be back with Communities In Schools and is in awe of all of the growth and resilience of the organization. In her free-time she enjoys time with her family, especially her granddaughters (who are her little Wonder Women), playing guitar and reading all kinds of fiction.
Rebecca Gamboa Gomez
Sr. Program Director of Campus Based Services
Rebecca is a Licensed Clinical Social Worker (LCSW) who joined Communities In Schools in 2011 after earning a Masters of Science in Social Work from the University of Texas at Austin. Rebecca has had the opportunity to work in various positions in the agency (Caseworker, Program Manager, Program Director of Campus Based Programs) where her strong passion for working with youth and families was applied. She is equally passionate about systems work and has participated in agency initiatives such as Capacity Team, Change Team, and Leadership Academy to gain skills and provide input to drive the mission forward. Rebecca has been a recipient of the Employee Excellence award. She enjoys starting the day off with a quiet early morning walk with her dog, and loves spending quality time with her family.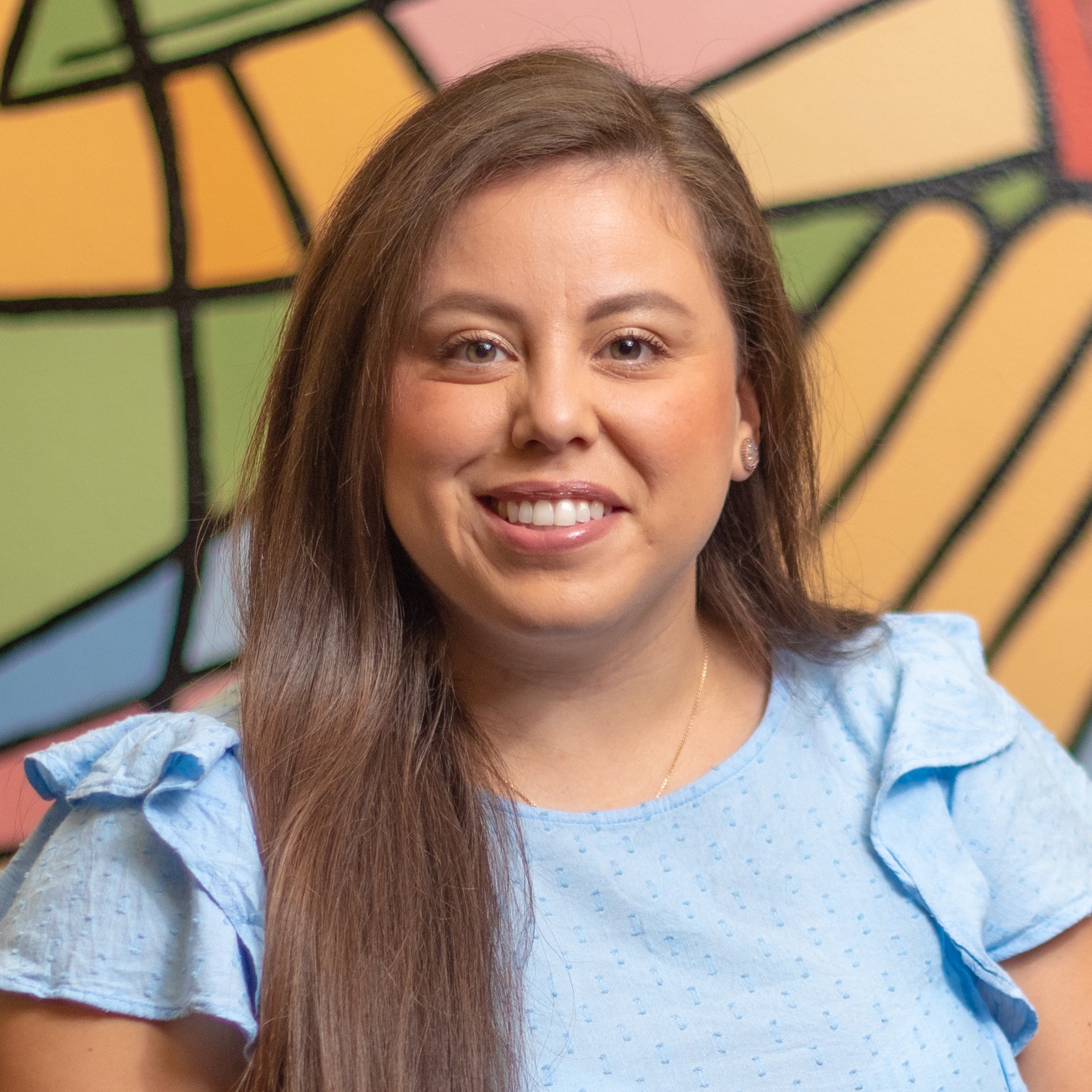 Karen Gonzalez
Program Officer
Karen joined Communities In Schools in the fall of 2020 as the Innovation Officer. She earned a bachelors and master's degree in Social Work from Texas State University and became licensed in the State of Texas as a Master Social Worker in 2013. Before joining CIS, Karen served as the Chief Program Officer at Con Mi MADRE supporting three chapters in Texas. Prior to that, she was part of the Children's Department at Safe Place, currently known as SAFE. Karen's goal is to disrupt systems that keep the families we serve at the margins, preventing them from unleashing their skills. Karen enjoys being an active member of her community and enjoys opportunities for educational and professional growth. Most recently Karen graduated from the Hispanic Austin Leadership Program. In 2018 she completed Leadership Austin's Emerge program, and the Data Leaders Academy presented by Good Measure. She currently serves as the Vice President of the Young Hispanic Professional Association of Austin. She has been married for 10 years and has a 6 year old daughter. She enjoys family gatherings and hanging out with friends.
Carldale Johnson
Sr. Director for College and Career Success
Carldale is an experienced educational leader with a demonstrated history of working with stakeholders to build and sustain reciprocal family and community partnerships and leverage those partnerships to cultivate inclusive, caring and culturally responsive school communities. Carldale joined CIS in 2022 after 14 years working in education. Carldale graduated from Huston-Tillotson University with a Bachelor of Art degree in Criminal Justice. He later attended Texas State University where he earned a Master of Arts degree in Elementary Education. Carldale is the father of three awesome sons, Jordan, Jakarri, and Jalen.
Amanda Miller
Sr. Impacts and Grants Officer
Amanda Miller is an ecologist-turned-social scientist with a background in facilitation and collective impact. She was bitten by the national service bug during her AmeriCorps service term and has supported nonprofits implementing national service projects throughout the last decade. Her areas of expertise are strategic thinking and systems design in database management, program operations, policy implementation, and group facilitation. Amanda holds a BS in Wildlife Ecology from the University of Florida and an MS in Biology from Texas Tech University. She is an alum of several leadership programs (Leadership Austin Emerge, Data Leaders Academy) and is currently completing a certificate in Nonprofit Leadership from the Harvard Kennedy School's Executive Education Program. As a committed advocate for collaborative impact, Amanda enjoys building authentic relationships with folks committed to doing their personal work. She says, "We all have a story to tell informed by our lived experience and personal values – let's get some coffee, I want to know about your world."
Sierra Perez
Sr. Director of Database Strategy & Performance Measures
Sierra (she/they) has nearly 15 years of experience working in the fields of education and nonprofits. Prior to returning to Communities In Schools, she worked with The Contemporary Austin and College Forward (College Possible) supporting both organizations with Salesforce and data efforts. Sierra has also completed three different AmeriCorps terms and previously worked as part of the AmeriCorps team at CIS. Sierra has an MSSW from The University of Texas at Austin with a focus on community and administrative leadership, as well as a graduate certificate in Nonprofit Studies. She also has her B.A. in English from Southwestern University. When not actively dreaming of becoming the Steve Kornacki of education data, you can find her knitting, reading, or watching movies with her partner of 13 years.
Johanna Hosking Pulido
Sr. Program Director, Innovation
Johanna is from the mountains of Pachuca, Hidalgo, Mexico. She earned a Bachelor of Science in Accounting and Business from La Salle University, and spent 5 years serving as the Director of the International and Cultural Office at La Salle University Pachuca while also remaining part of its high school faculty. She joined Communities In Schools in 2010, and the focus of her work has been on two-gen, school readiness, family engagement, and supporting families of young children. For the past eight years she has participated in equity dialogues and trainings to re-imagine systems that are inclusive for all families and their children, and as an equity advocate on the steering committee with Austin Community College's Truth, Racial Healing &Transformation Campus Center. In her current role as the Senior Program Director of Innovation, she pilots innovative agency-wide initiatives, and supports three CIS programs; ASPIRE Family Literacy, Care Coordination, and AmeriCorps. Johanna serves on the City of Austin Early Childhood Council (ECC) as the Mayor's Appointee, the ECC Community Engagement & Partnerships Work Group, and the Joint Inclusion Committee. She is a proud mother of two bilingual girls and is part of the Campus Advisory Council at their dual-language Austin ISD School.
Jesslyna Olivares, CPRP
Sr. Program Director for Youth Enrichment
Jesslyna joined Communities In Schools in 2021 with a career background in Municipal Parks and Recreation. With 20 years of combined service and experience, she strives to positively impact underserved populations by developing programs, events, activities, and services that promote youth development, family values, wellness, and support for people of all ages and abilities. Jesslyna specializes in Summer Camp and After School programming, partnerships, capacity building and, policy creation. After graduating from Texas State University in 2012 with a degree in Recreation Administration, Jesslyna went on to work with Manor ISD, the City of Georgetown Parks and Recreation Department, the City of Austin Parks and Recreation Department and, most recently, she worked with the City of McKinney Parks and Recreation Department as the Recreation and Fitness Supervisor at the Apex Centre. Jesslyna is a Certified Parks and Recreation Professional and has active memberships with TRAPS, NRPA, and ACA. She currently serves on the Leadership Board for the Future and Young Professionals Branch of TRAPS and graduated from the TRAPS Leadership Academy in 2018. In her free time, Jesslyna loves to go on adventures with her friends and family, attend concerts and music festivals, hike at the greenbelt, travel, and spend time with her two chihuahua's, Lily and Oliver.
Jackie Platt
Senior Program Director of Campus-Based Services
Jackie has worked in the social service field for 20 years, with over 12 years of experience managing youth development and education and workforce programming. Jackie joined Communities In Schools of Central Texas in 2021 as a Senior Program Director of Campus Based Services. Growing up in a family of educators, Jackie recognizes the value of education and the challenges and inequities inherent in the system. She is passionate about promoting safe learning environments and access to opportunities for all students as well as supporting campus-based staff. Jackie has served on the Austin ISD School Health Advisory Council, the Healthy Youth Partnership Steering Committee, and the Austin Opportunity Youth Collaborative. She enjoys exploring Austin's green spaces with her husband, son, and hound dog.
Sara Reeves
Sr. Director of Partnerships
Sara (she/her) has worked in the field of adolescent health promotion for over 10 years, implementing, developing, and managing school and community-based programs. She believes that all young people deserve access to environments, resources, opportunities and relationships that support them in leading healthy, fulfilling lives. As the Sr. Director of Strategic Partnerships, Sara leads the Program Support Services Department, which includes Strategic Partnerships, Student and Family Assistance and Community Outreach, contributing to the CIS mission to surround students with a community of support. She is a Certified Health Education Specialist (CHES), has a M.S. in Health Education from Texas A&M University and a B.A. in Social Work from St. Edward's University. In her free time she enjoys cooking, getting outdoors, traveling, and spending time with her wife, their dog Gypsy, and their cat, Elio.
Jim Thompson
Sr. Director of Information Technology
Jim joined Communities In Schools in 2021 as Sr. Director of Information Technology. Previously, Jim held the position of Director of Information Technology for Fallbrook Technologies for 10 years. Jim partnered with his Executive peers to provide technology solutions in Fallbrook's three business divisions: Manufacturing, Engineering Services, and Patients and licensing. On-premise and Cloud services supported offices in USA, Germany, Netherlands, and China. Prior to Fallbrook, Jim was the Director of Information Management and Technology for Tepa. Jim was part of the startup management team. In his 6-year tenure, the company grow to 150 million a year in revenue. Tepa is a tribally-owned company which provides most of its services to Federal and State Governments. These services are in six business divisions: Construction, Engineering, Environmental, Industrial, Staffing, and Technology. Jim holds two bachelor's degrees from Texas State University: Health Information Systems and Healthcare Administration. Outside of work, he spends most of his time with friends and family. Hobbies include: River Fishing, Golfing, and technology tinkering.
Wayne Williams
Sr. Director for Male Programs
Wayne believes in the words of Nelson Mandela who said that" Education is the most powerful weapon you can use to change the world." Wayne came to CIS in the fall of 2021, after 17 years working in Education. Wayne graduated from Louisiana State University with a Bachelor's of Art and Science Degree in Liberal Arts with Minors in African and African American Studies, Sociology, and History. He later attended Concordia University in Austin to earn a Master's in Education Administration. As a community leader, He is a member of the Central Texas Equity Foundation, The Austin Area Urban League Young Professionals, Round Rock chapter of Omega Psi Phi Fraternity Inc., and The Austin Area National Pan-Hellenic Council. If he is not serving in the community, Wayne enjoys spending time with his family and traveling.